Bio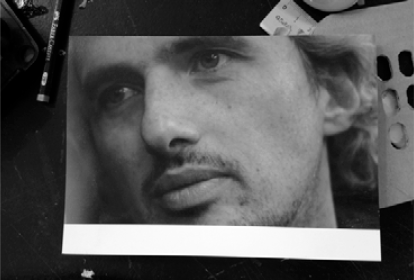 Mikhail Margolis [SFR75] is an artist who keeps himself busy in the genre of multimedia art. In his creative efforts he works with both digital media and contemporary materials, and is at home with both. Mikhail's path to his artistic practice is a circuitous one. Born in the Soviet Union in 1975, he found himself as a young man pursuing higher education in the United States. After spending time in Washington, D.C. and San Francisco, he again ventured across the Atlantic and settled in Paris, where he still lives today.
Mikhail has been represented by Gallery Chalot since 2010, and his pieces have been shown in various exhibitions, solo shows, and art fairs. He currently works out of his atelier in Saint-Ouen. Copies of many of the works shown on this site are in private collections throughout the world.
«...as a multimedia artist, I am interested in making art that arises from the intersection of digital technology and conventional techniques. Rather than making technology stand out, I try to use it in subtle combinations with traditional materials to create fresh and innovative ways for viewers to experience art. Both beauty and ideas are equally important to me, and although contemporary art prioritizes concept I don't believe it should be done at the expense of esthetics.
In my practice I find myself faced with two different approaches. A new piece can be a way to explore something personal about myself: the creation itself is essentially a therapeutic act, and a way to reflect on inner thoughts and feelings. Choosing this approach requires courage, but also a certain amount of vanity to be interested in making the attempt. A contrasting method is to step back and create art from an impersonal standpoint. Such pieces try to speak to more universal concerns, and in the process of creating them the self is minimized to the point of erasure. Each path has its allure as well as its frustrations, and deciding which one to take is not always easy. However, the struggle is at the heart of the creative process, and is often reflected in the work I ultimately produce..»
Exhibitions:
2009 Nemo Paris (FR)
2010 Baignes Numérique Enghien-les-Bains (FR)
Russie! Venezia (IT)
2011 Galerie Charlot - Memo Paris (FR)
Art Paris Paris (FR)
2012 Le Bloc Paris (FR)
Les Loups / Expo Paris (FR)
Albatros / Traits-de-Union Montreuil (FR)
Galerie Charlot - Root Paris (FR)
2013 Scope Basel (CH)
Gallery / Mixed Media Paris (FR)
Art Paris Paris (FR)
2014 Show Off Paris (FR)
Delectricity Detroit (USA)
2015 Art Paris Paris (FR)
Galerie "Glory" Paris (FR)
2017 Art Paris Paris (FR)
Galerie "Data" Tel-Aviv Tel-Aviv (IL)
2018 Seclusion
2019 Seclusion
2020 Galerie Charlot / 10 years Paris
2021 Both Ends Burning Saint-Ouen (FR)
6th Ural Bienale Special Project Yekaterinburg (RU)
Volonte93 Saint-Ouen (FR)
2022 ArtMe! Paris
Solo Exhibition
Group Exhibition
Art Fairs
Festivals